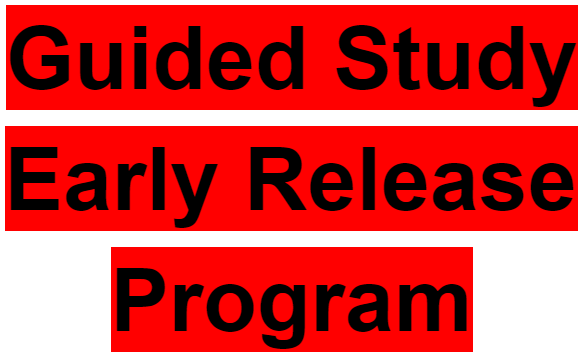 Guided Study Early Release Program
Staunton High School
Wednesday, August 29, 2018
Dear SHS Families,
Staunton High School utilizes a Response to Intervention (RtI) program to help students that may be struggling academically or behaviorally. The program is implemented during 8th period (2:40 PM - 3:05 PM) and involves a variety of staff assisting students. As part of the program, any student who is meeting the following guidelines will be allowed to leave school at 2:40 PM, starting the 4th week of each semester.
Early Release Criteria:
The below listed criteria applies to each individual class a student is enrolled:
1) A student must be earning an A, B, or C average for the semester.
2) A student must have 3 or fewer absences (excused only).
3) A student must have 2 or fewer tardies for the semester.
*If a student receives a referral for any reason during the semester, then he/she must stay during 8th period.
In addition, the RtI Committee will review your child's STAR Testing Data and his/her performance in each class to determine his/her eligibility to leave during 8th period. If it is determined that your child needs some extra assistance in a class, he/she will be assigned to a teacher during 8th period to work on skills, complete missing assignments, and work on homework.
Additionally, if your child is eligible to leave school; however, you'd like him/her to stay on campus during 8th period, he/she will be assigned to a Study Hall or PE class until dismissal at 3:05 PM. Please sign the attached Permission Waiver regarding your child's ability to leave early upon meeting the above listed criteria. In order to take part in this early dismissal, we must have a permission slip on file. Students can begin to leave early starting the 4th week of school each semester.
Our goal in implementing this policy is to provide more intensive small group and 1-on-1 instruction to those students who may be struggling in a core content class. Ultimately, we want all students at SHS to be successful and we want to provide them every opportunity to reach their goals! If you have any questions or concerns, please don't hesitate to contact the High School Office.
Click this link for the permission slip: http://5il.co/4n01