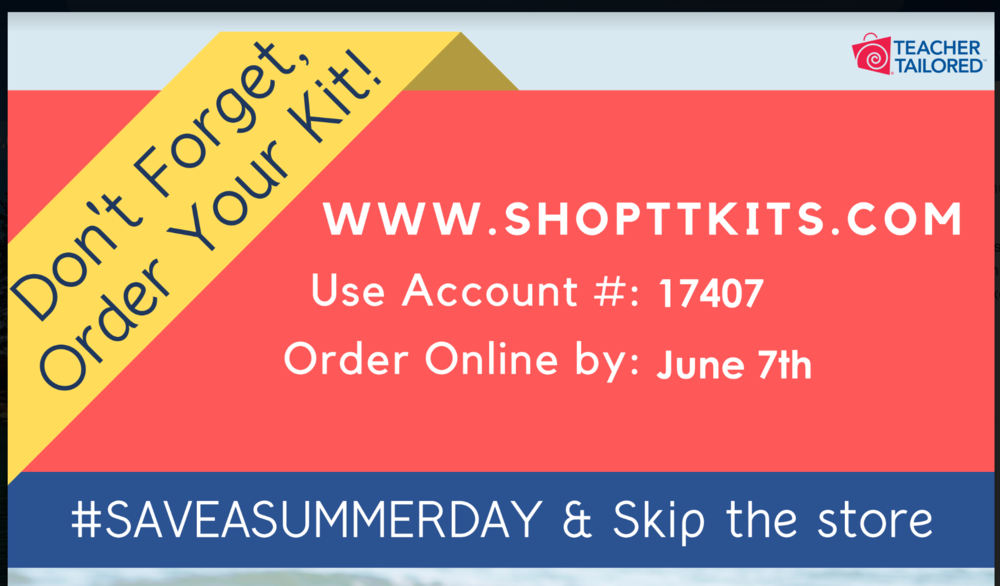 PTO Student Supply Kits for Next School Year
Nancy Werden
Friday, May 24, 2019
School Supply Kits for 2019-2020
Save yourself the time and hassle of going to the store to buy school supplies! The PTO has coordinated with the teachers of grades kindergarten through 5th to offer school supply kits. These kits contain the exact brands and quantities that the teachers have requested. These kits are being sold to you at cost! The PTO is not using this as a fundraiser, but we are offering this program as a convenience for both parents and teachers.
This is how it works. Simply go online and order the kit for the grade level you need. The kit will be delivered to the school and be waiting for your child. No more lugging those supplies in at open house! And even better, no more labeling! The kits come with pre-printed labels with your child's name.
Place your order at: www.shopttkits.com . The account number for Staunton Elementary is 17407. The exact content of the kits can be viewed online. Grab your backpack and lunchbox, and your child is ready for school!
Act fast! Orders must be placed by June 7th!
Sponsor a Student's School Supplies There is a new and easy way to help a child at Staunton Elementary get off to a great start at school this fall. You can order a school supply kit that contains everything their teacher has asked for them to have. You can decide if you want to sponsor a 2nd grade girl or 5th grader, whatever grade you choose and as many children as you choose from kindergarten through 5th grade. Simply go to www.shopttkits.com and enter the account number 17407 for Staunton Elementary. Choose the kit(s) you want to purchase and simply write SPONSOR for the name. Then the PTO in coordination with the school will take those boxes available to students who need them. This is not a fundraiser for the PTO! Supply kits are being sold at cost. We are simply coordinating the efforts to try to get the correct school supplies in the hands of as many students as possible. If you are able to sponsor a student, please act fast. The kits are only available for purchase through June 7th!